Ytterbium Quantum Gases
Photo: UHH, RRZ/MCC, Mentz
Koen Sponselee, Benjamin Abeln, Marcel Diem , Nejira Pintul, Prof. Klaus Sengstock and Dr. Christoph Becker
Summary
In our project we employ the particular properties of ultracold Yb atoms to inversitgate fascinating physical phenomena ranging from high precision spectroscopy, topology in synthetic dimensions to strongly correlated lattice models with orbital degrees of freedom.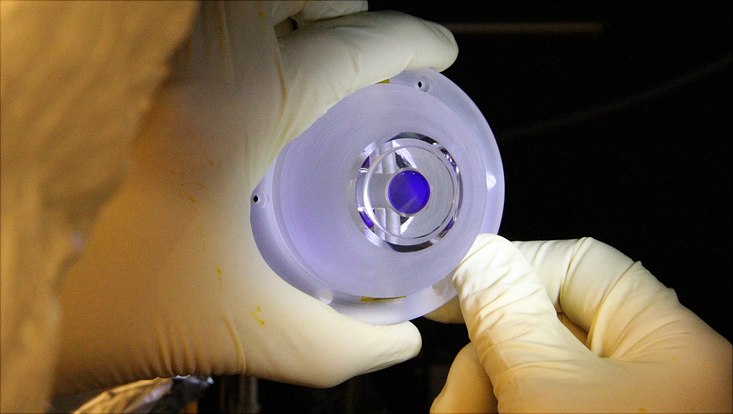 Photo: UHH/Dörscher
Image of an ultra high finesse optical cavity used for the clock laser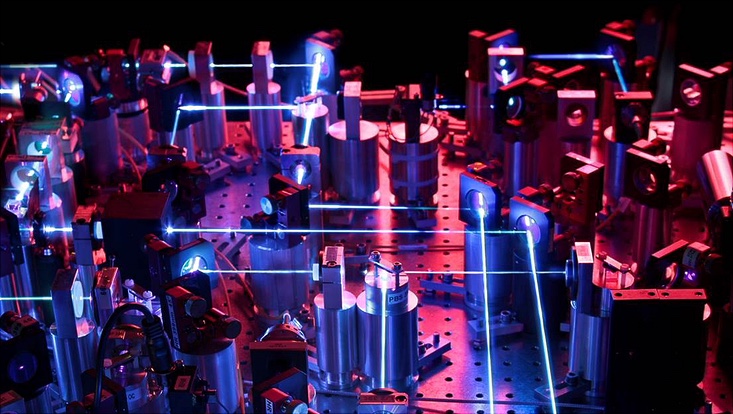 Photo: UHH/CUI Peter Garten
Part of the blue laser system for driving the strong 1S0-1P1 transition used for the 2D MOT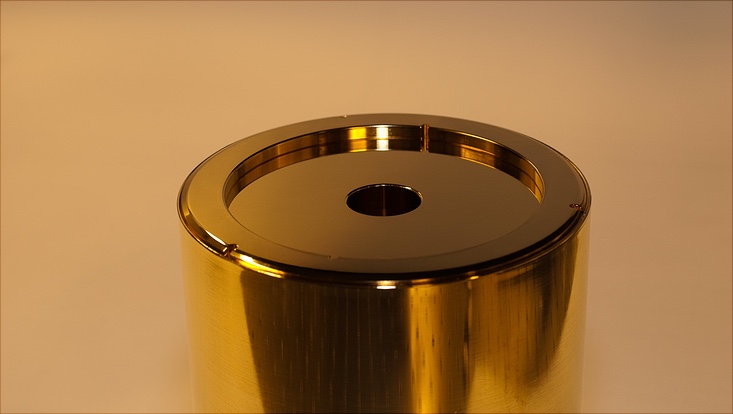 Photo: UHH/Dörscher
Gold coated copper heat shields encapsulating the optical resonator
Photo: UHH/Dörscher
Shell MOT of 174Yb  for very weak radiation pressure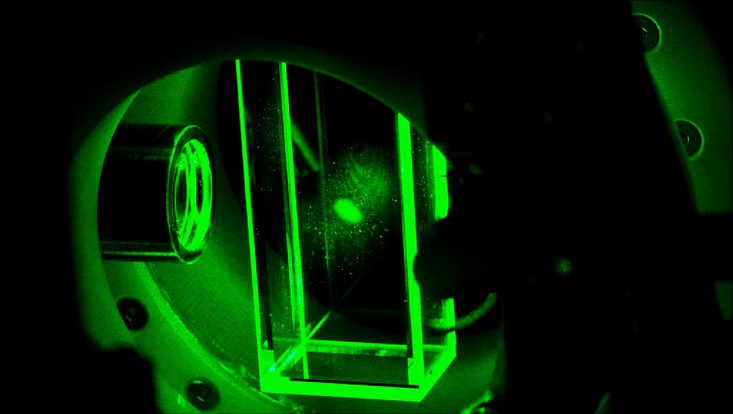 Photo: UHH/Santra
Large 173Yb 3D magneto optical trap
Introduction
Alkaline-earth atoms promise to extend the diversity of physical phenomena that can be investigated employing ultracold quantum gases. Owing to their He-like electronic level structure they possess several meta-stable states with extremely long lifetimes that allow for experiments demanding for an internal orbital degree of freedom. Directly connected to the long lifetime of these meta-stable states is the existence of ultra-narrow optical transitions that have come into focus in connection with optical frequency standards with Allan variances down to 10-18. In this project we combine the benefits of optical lattice clocks and degenerate quantum gases held in optical lattices. We want to explore novel ways of studying quantum many-body effects using ultrasensitive spectroscopy in the optical domain with resolution on the order of 1 Hz or less.
The existence of an ultra-narrow electronic "clock" transition with a linewidth of less than 10 mHz makes Ytterbium optical lattice clocks a prospective candidate for an optical frequency standard. While for optical lattice clocks it is of highest relevance to suppress or compensate all line-shifts or line-braodening caused by interactions of the atoms, we intend to use these shifts as a tool to sensitively probe interactions and measure correlations in ultracold quantum gases.
Its rich variety of abundant isotopes makes ytterbium one of the most flexible elements conceivable for quantum gas mixtures. Bose-Bose, Bose-Fermi and Fermi-Fermi quantum gas mixtures of varying interactions strengths can be produced in a single setup.
The abovementioned particular internal structure of Yb allows for optical trapping of atoms in meta-stable states and thus opens the stage for creating and simulating complex systems known from solid state physics with the help of state-selective optical potentials: atoms in one state can be deeply bound in an optical lattice whereas particles in a different electronic state might still be highly mobile.
Moreover the decoupling of the nuclear from the electronic spin in all J=0 states offers intriguing opportunities as well, e.g. for the implementation of quantum information processing or the search for SU(N) magnetism.
Experimental setup
For the generation of ultracold Yb quantum gases we use an approach that has thus far only been conducted for alklali atoms. We start by trapping and cooling Yb atoms released from a dispenser in a 2D magneto-optical trap operated on the very broad dipole allowed transition 1S0 - 1P1 at 399nm. The atoms are than guided through a differential pumping stage into the 3D MOT glass cell where we sustain pressures below 10-11 mbar to guarantee long lifetimes of the atomic samples. Here we cool the atoms further on the narrow intercombination transition 1S0 - 3P1 at 556 nm which results in very low temperatures after the MOT phase. Subsequently atoms are loaded into a crossed optical dipole trap where we evaporatively cool them to quantum degeneracy. We routinely prepare Bose-Einstein condensates of 174Yb as well as quantum degenerate Fermi gases of 173Yb and 171Yb.
Our experiment features a magic as well as state-dependent non-cubic optical lattice that allows to generate triangular as well as honeycomb prediodic potentials to investigate a plethora of manybody phenomena reminiscent of solid state physics and beyond.
Clock laser
Interrogating optical transitions wit a natural line width below 1Hz demands for extremely narrow and stable laser sources. Building an atomic clock typically requires three different elements to perfectly work together: First an extremely stable oscillator is needed for precise probing of some frequency standard. Second this frequency standard is usually provided by a very narrow atomic transition that is ideally immune against all different kinds of perturbations like e.g. residual Zeeman shifts, Stark shift or interaction shift. Last but not least a frequency counter is necessary to determine at which frequency the oscillator stabilized to the frequency reference is running. For optical clocks this problem is by far not trivial and is nowadays solved by comparing the frequency of the clock laser to an optical frequency comb.
Laser system
The wavelengths required for cooling, trapping and manipulating Yb atoms are spread over the whole visible and NIR range and often require frequency doubling techniques owing to the lack of suitable laser sources at the specific wavelengths. In our project we use diode laser systems, solid state laser sources as well as intra-cavity frequency-doubled sources to provide light at e.g. 399nm, 556nm, 578nm. A profound knowledge on modern laser technology is acquired while working in the lab.
Theses
PhD Theses
Probing Ytterbium Quantum Gases in an Optical Lattice using the Clock Transition
Doctoral thesis of Thomas Ponath (2018, english) 
Towards Quantum Simulation of the Kondo-Lattice-Model
Doctoral thesis of Andre Kochanke (2017, english) 
Optical Potentials for the Realization of Dissipative Fermi-Hubbard Models with Ultracold Ytterbium Atoms
Doctoral thesis of Bastian Hundt (2016, english) 
Ultracold Yb Gases with Control over Spin and Orbital Degrees of Freedom
Doctoral thesis of Alexander Thobe (2014, english)
Creation of ytterbium quantum gases with a compact 2D-/3D-MOT setup
Doctoral thesis of Sören Erik Dörscher (2013, english) 
Diploma and Master Theses
Künstliche Eichfelder und Synthetische Dimensionen
Master thesis of Lars Hilbig (2018, german) 
Design, Implementation and Characterization of a new Laser System for Mixtures of Ytterbium Quantum Gases
Master thesis of Benjamin Abeln (2016, english)
Setup of a State-Dependent Lattice for the Realization of the 1D-Kondo-Lattice-Model with Ultracold Ytterbium-Atoms
Master thesis of Anna Skottke (2016, german)
Setup and characterization of a triangular optical lattice for Ytterbium
Diploma thesis of Niels Ingwer Petersen (2014, german) 
Stabilization of a Clock Laser for High Precision Spectroscopy on Ultracold Quantum Gases
Diploma thesis of Jan-Henrik Carstens (2011, english)
Setting up a blue laser system as light source for a Ytterbium 2D-MOT
Diploma thesis of Hans Keßler (2011, german) 
Conceptual Design and Setup of a Highly Stable Laser for Precision Measurements on Ultracold Quantum Gases
Diploma thesis of Thomas Rützel (2010, german)
Bachelor Theses
Towards the Creation of Artificial Gauge Fields in Synthetic Dimensions for Fermionic Ytterbium
Bachelor thesis of Nejira Pintul (2018, english) 
Optische Resonatoren zur Frequenzstabilisierung von Lasern
Bachelor thesis of Maximilian Hagnenah (2018, german) 
Simulation zur Optimierung einer 2 dimensionalen magneto-otpischen Falle mit Ytterbium
Bachelor thesis of Lars Hilbig (2017, german) 
Optimierung des Designs und Konstruktion eines 399nm External Cavity Diodelasers
Bachelor thesis of Karl Lukas Heinze (2016, german) 
Design und Realisierung eines hochauflösenden Detektionssystems für Ytterbium-Quantengase
Bachelor thesis of Torben Sobottke (2014, german) 
Aufbau spektroskopischer Komponenten zur Laserstabilisierung für ein Quantengasexperiment
Bachelor thesis of Anna Skottke (2013, german)