Quantum Matter Group
Open PhD Position
Exploration and quantum simulation of 2D superfluids
We offer a PhD position in a field with high impact that is internationally rapidly expanding and provide an excellent infrastructure, both scientifically and financially. For more details see (pdf).
Please send your application directly to: Henning.Moritz"AT"physik.uni-hamburg.de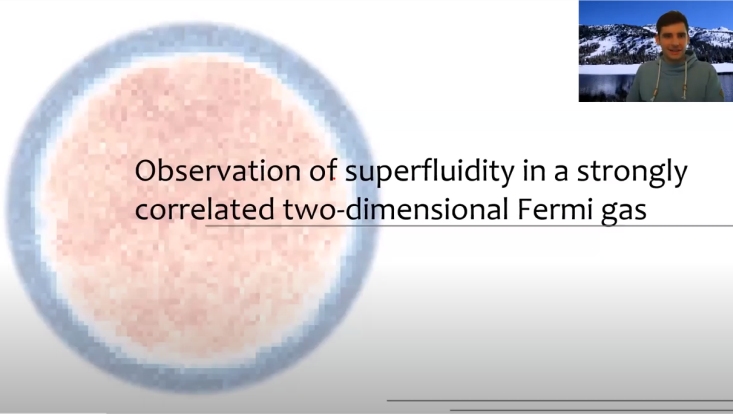 Lennart Sobirey wins award for the best scientific presentation at the CUI Annular Meeting 2020
Research Outline
In our group, we experimentally study matter at nano-Kelvin temperatures. Using a sophisticated arrangements of laser beams and magnetic fields, we cool dilute atomic gases until the distinction between individiual atoms starts to blur. Under these extreme conditions, quantum mechanics rules supreme, with astonishing consequences: Particles may flow without friction, behave as waves and interfere with each other. New quantum states of matter emerge, such as e.g. Bose-Einstein condensates where nearly all particles gather in a single quantum state.
The experimental control achieved over ultracold quantum gases in recent years is unique within experimental physics. It is possible to control both the external and internal quantum state, change the dimensionality of the systems under study and tune the interaction strength. This microscopic access to the systems properties allows us to study fundamental issues of many-body quantum mechanics with experiment, effectively realising an analog quantum simulator. We are particularly interested in the behaviour of strongly correlated systems, where the interaction strength becomes comparable to the kinetic energy and every particle influences the behaviour of all others.
Selection of past experiments
ETH Zürich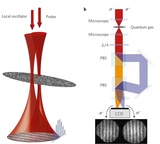 Interferometric measurement of local spin-fluctuations in a quantum gas - 8.4.2012
In this Letter, we use a shot-noise-limited interferometer to directly measure the local spin fluctuations of quantum degenerate Fermi gases. We observe a reduction of spin-fluctuations by up to 9.4 dB which can be interpreted as a macroscopic witness of entanglement.
To learn more, read the paper in the Nature Physics.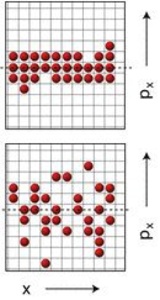 Local observation of antibunching in a trapped Fermi gas
Using a high-resolution microscope, we have been able to observe in-situ density fluctuations: due to the Fermionic nature of Lithium 6 atoms, these fluctuations are reduced below the shot-noise.
Image: As the temperature is decreased, atoms gather in the low momentum region of phase space. In that region, the fluctuations of atom number in a group of neighbouring cells is strongly reduced (image courtesy of C. Westbrook).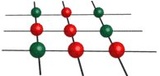 A Mott insulator of fermionic atoms in an optical lattice
We report the formation of a Mott insulator of a repulsively interacting two-component Fermi gas in an optical lattice. Read the paper: Nature 455, 204 (2008)