Ultracold and Ultrafast
Photo: UHH, RRZ/MCC, Mentz
Summary
Ultrashort laser pulses enable us to observe and manipulate matter on very short time scales, whereas ultracold atoms permit experiments with high precision and controllability. This project is carried out in close collaboration with the group of Prof. Dr. Markus Drescher and aims at manipulating macroscopic quantum systems on ultrafast time-scales by, for example, instantaneously introducing long-range interactions by ionizing atoms in a quantum gas.
Impressions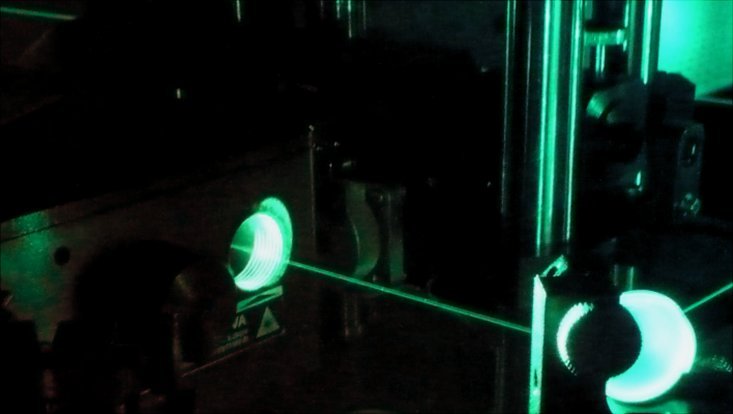 Photo: UHH/Wessels-Staarmann
Ultrashort laser pulses for studying the strong-field ionization of ultracold atoms.
Photo: UHH/Großmann
Ultrafast electron cooling in an ultracold microplasma.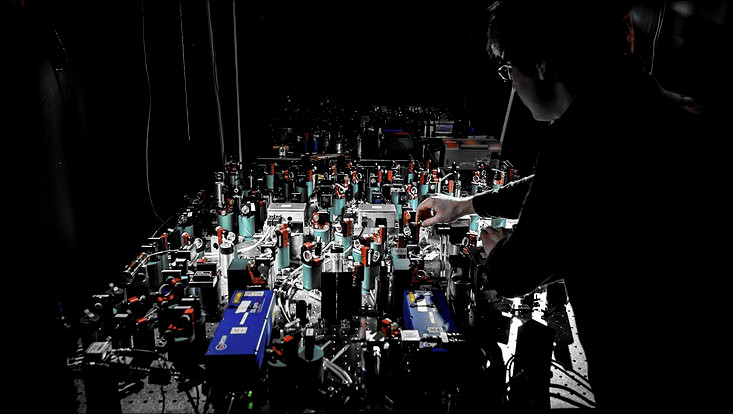 Photo: DESY 2015, Lars Berg
Cooling laser system for making, manipulating and detecting ultracold atoms.
Patents
P. Wessels-Staarmann, J. Heyer, and M. Drescher,
EU Patent Application No. 22 183 392.4 (2022).
Theses
PhD theses
Master / Diploma theses
A Coincidence Electron Velocity Map Imaging and Ion Microscopy Unit for Ultracold Atoms.
Master thesis of Jette Heyer (2021).
Rydberg dressing of a Bose -Einstein condensate for the trapping of a single ion.
Master thesis of Julia Bergmann (2020).

Lasersystem zum Rydberg-Dressing eines Bose-Einstein-Kondensats.
Master thesis of Julian Fiedler (2020).
A quantum gas machine for local photoionization of ultracold 87Rb on ultrafast time-scales.
Master thesis of Jakob Butlewski (2018).
Aufbau eines abgeschirmten Elektronen und Ionendetektionssystems zur Materiewelleninterferometrie.
Master thesis of Steffen Pehmöller (2017).
The Quantum Zeno Effect in the Local Photoionisation of a Bose Einstein Condensate.
Master thesis of Janine Franz (2016).
Photoionisation ultrakalter 87Rb-Atome in starken Laserfeldern.
Master thesis of Tobias Kroker (2016).
Aufbau und Charakterisierung einer Hybridfalle für ultrakalte Quantengase.
Master thesis of Harry Krüger (2015).
Optimierung einer Quantengasmaschine zur Ionisation eines Bose-Einstein-Kondensats durch ultrakurze Laserpulse.
Master thesis of Harald Blazy (2015).
Bachelor theses
Reconstruction algorithms for an electron velocity map imaging spectrometer for ultracold atoms.
Bachelor thesis of Lasse Paulsen (2022).
Effiziente RF evaporative Kühlung von Rubidium-Atomen bis zur Bose-Einstein-Kondensation.
Bachelor thesis of Kamila Murat (2022).
Effiziente Laserkühlung von Rubidium-Atomen.
Bachelor thesis of Marlon Hoffmann (2022).
Gittermonochromator zum Strecken ultrakurzer Lichtpulse.
Bachelor thesis of Victoria Dietz (2021).
Graue Melasse zum Sub-Dopplerkühlen von Rubidium-87.
Bachelor thesis of Linn Hamester (2020).
Eine Detektionseinheit für geladene Teilchen als Schnittstelle zwischen ultrakalten Atomen und Femtosekundenlaserpulsen.
Bachelor thesis of Donika Imeri (2019).
Abbildungssysteme für Ultrakalte Quantengase.
Bachelor thesis of Jette Heyer (2018).
Aufbau einer Detektoreinheit zum Nachweis von Materiewelleninterferenz langsamer Elektronen.
Bachelor thesis of Julian Fiedler (2017).

Aktive Magnetfeldkompensation für Photoionisation am ultrakalten Quantengas.
Bachelor thesis of Tim Anlauf (2016).
Herstellung und Charakterisierung effizienter Konversionsdynoden zum Nachweis einzelner Ionen.
Bachelor thesis of Tara Lampe (2016).
Aufbau und Charakterisierung einer 2D-Strahllagenstabilisierung.
Bachelor thesis of Mario Neundorf (2016).
Aufbau und Test eines bildgebenden Elektronendetektors für Ionisationsexperimente im Laser-Doppelfokus.
Bachelor thesis of Steffen Pehmöller (2015).
Entwicklung und Aufbau einer optischen Pinzette für ultrakalte Atome.
Bachelor thesis of Maik Schröder (2015).
Optischer Aufbau zur Erzeugung eines sub-Mikrometer Doppelfokus.
Bachelor thesis of Jasper Frohn (2014).