Multispecies mixture segregation using driven lattices
23 May 2018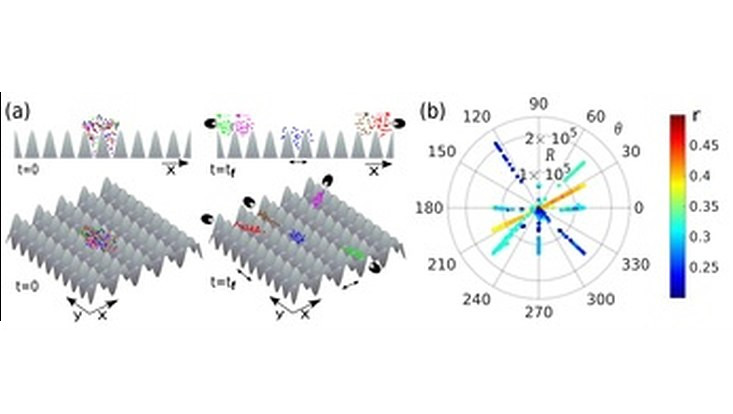 Photo: AG Schmelcher
The controlled separation of particle mixtures based on the physical properties of their constituents poses major challenge cutting across disciplines, from biomedical sciences to technological applications. Of the many innovative separation schemes already developed, one important class employs Brownian ratchets, in which thermal Brownian motion combined with an external time-dependent driving force generates directed motion of the constituents depending on their physical properties. However, most of the ratchet based schemes are restricted to the separation of only two species, based on forward transport of one species and reverse transport of the other one.
In our recent work published in Physical Review Letters, we propose a generic ratchet based scheme to efficiently separate particles in multispecies mixtures based on their physical properties like mass, friction, or size. The setup consists of a mixture of particles in a periodically shaken two-dimensional dissipative lattice and we demonstrate that it is possible to induce ballistic directed transport of the individual species simultaneously at different angles. This selective transport is achieved by controlling the late-time nonlinear particle dynamics via the attractors embedded in the phase space and their bifurcations. The segregation scheme should apply generally to particles on atomic and nanoscales up to colloids and granular particles, as illustrated in our paper. 
Physical Review Letters 120, 218002 (2018)
  
(a) Upper panel: Cartoon of a standard particle segregation scheme based on 1D ratchets allowing for the separation of a mixture of particles (left) with different mass, mobility, or radius (color) into two components (right). Lower panel: The present scheme allows for a controlled angular-specific transport of many species which can be applied to sort multispecies mixtures. (b) Illustration of the segregation scheme for a polydisperse mixture of colloidal particles of different radii (in colorbar). Particles having different radii travel ballistically (colored rays) at different angles allowing for separation using detectors.
---