Enforcing lockstep by shaking
11 October 2018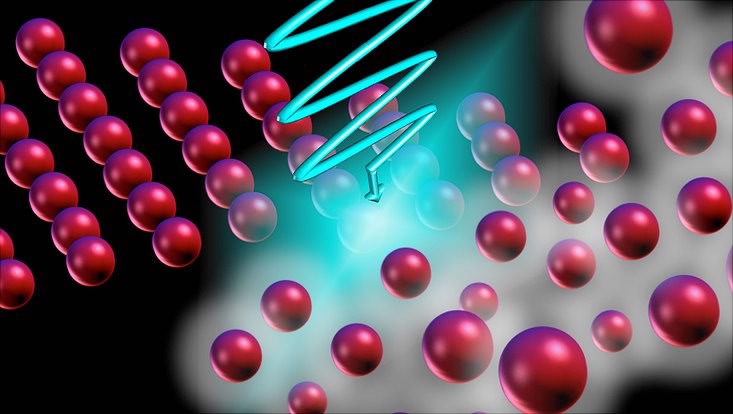 Photo: AG Hemmerich
Superconductivity is a highly useful functional property of certain materials, which unfortunately requires extremely low temperatures. In the superconducting state, the electrons are grouped into pairs, which are subject to a stringent order, that forces them to move in lockstep and hence provides resistance-free electrical currents. If the temperature is too high, due to the irregular thermal shaking, typically other competing states prevail, where the electron pairs may still be in place, however, no longer subject to lockstep motion but rather localized into a density modulated pattern called charge density wave.What about additional regular shaking of the entire sample to suppress the charge density wave state and restore lockstep motion even at high temperatures? While shaking and lockstep at first glance may appear as clear contradictions, this is exactly the idea that has been recently applied to certain high temperature cuprate superconductors. Regular shaking is provided by irradiating the sample with an intense light pulse that induces a lattice vibration. While experiments have shown that the critical temperature for superconductivity could be in fact increased, the underlying mechanism was subject of a highly controversial debate. How should shaking, instead of introducing additional disorder and heating, induce ordered motion? In a joint effort together with theoretical colleagues, we have recently shown,that this is in fact possible using a minimal laboratory model comprising a Bose-Einstein condensate placed in a high finesse optical cavity. This quantum gas system provides the right degree of complexity to allow for a quantitative comparison between an ab initio theoretical description and experimental observations. The results are described in two recent articles published in Physical Review Letters.
Dynamical control of order in a cavity-BEC system
J. G. Cosme, C. Georges, A. Hemmerich, L. Mathey
Physical Review Letters 121 (15), 153001 (2018).
https://arxiv.org/abs/1806.10573
Light-induced coherence in an atom-cavity system
C. Georges, J. G. Cosme, L. Mathey, A. Hemmerich

Physical Review Letters 121, 220405 (2018).
---