Cavity QED with ultracold atomic ensembles
Christoph Georges, Hans Keßler, Andreas Hemmerich
A new exciting aspect of light-matter interactions arises, when large samples of cold atoms are subjected to optical cavities with extreme values of the finesse. In this regime collective long-range forces between distant atoms yield a rich non-linear dynamics. Complex behaviour as self-organization, quantum phase transitions and quantum mechanical squeezing arise in a fully controlled physical environment.
Applications range from quantum information processing to new cavity-based laser cooling mechanisms, which can work for particles with complex internal structure, e.g., molecules. Tailored atom-cavity systems may also be used as efficient analogue simulators for complex many-body systems from other branches of physics.
Introduction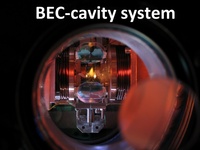 The study of the coupling of single-mode radiation to selected electronic degrees of freedom of single atoms has led to the celebrated field of cavity quantum electrodynamics in the eighties and nineties. In the past decade the focus of research has shifted towards the interaction of a single mode of the radiation field with the external degrees of freedom of well controlled macroscopic objects.
Examples of such objects are sub-micron mechanical oscillators like cantilevers or membranes (which has led to the new field of cavity optomechanics) or, as in this work, droplets of quantum degenerate atomic gases. When quantum ensembles such as atomic Bose-Einstein condensates (BECs) are considered, a unique arena opens up where the worlds of quantum optics and quantum degenerate many-body physics are brought together in order to prepare and study extreme forms of non-linear quantum matter. The fragile nature of ultracold quantum ensembles limits one to dispersive light-matter interactions excluding near resonant excitations followed by spontaneous emission.
We study the most elementary atom-cavity configuration, providing a maximum of control: a BEC of 87Rb-atoms interacting with a single longitudinal mode of a standing wave resonator. The atom-cavity system operates within the intersection of the three regimes of cavity dominated scattering, strong cooperative coupling, and sub-recoil resolution, and hence despite its elementary character it displays unusual behaviour.
Scientific Achievements
Bose - Einstein condensates in an optical cavity with sub-recoil bandwidth
This article  provides  a brief synopsis of our recent work  on  the  interaction of  Bose-Einstein condensates with the light field inside an optical cavity exhibiting a bandwidth on the order of the recoil frequency. Three different coupling scenarios are discussed giving rise to different physical phenomena at the borderline between the fields of quantum optics and many-body physics. This includes sub-recoil opto-mechanical cooling, cavity-controlled matter wave superradiance and  the emergence of a superradiant superfluid or a superradiant Mott insulating many-body phase in a self-organized  intra-cavity optical lattice with retarded infinite range interactions.
This article is part of the topical collection "Enlightening the World with the Laser" - Honoring T. W. Hänsch guest edited by Tilman Esslinger, Nathalie Picqué, and Thomas Udem.
In-situ observation of optomechanical Bloch oscillations in an optical cavity
It is shown experimentally that a Bose-Einstein condensate inside an optical cavity, operating in the regime of strong cooperative coupling, responds to an external force by an optomechanical Bloch oscillation, which can be directly observed in the light leaking out of the cavity. Previous theoretical work predicts that the frequency of this oscillation matches with that of conventional Bloch oscillations such that its in-situ monitoring may help to increase the data acquisition speed in precision force measurements.
New Journal of Physics 18, 102001 (2016)
Observation of a superradiant Mott insulator in the Dicke-Hubbard model
It is well known that the bosonic Hubbard model possesses a Mott insulator phase. Likewise, it is known that the Dicke model exhibits a self-organized superradiant phase. By implementing an optical lattice inside of a high finesse optical cavity both models are merged such that an extended Hubbard model with cavity-mediated infinite range interactions arises. In addition to a normal superfluid phase, two superradiant phases are found, one of them coherent and hence superfluid and one incoherent Mott insulating.
Physical Review Letters, 115, 230403 (2015)
Dynamical phase transition in the open Dicke model
The Dicke model with a weak dissipation channel is realized by coupling a Bose-Einstein condensate to an optical cavity with ultra-narrow bandwidth. We explore the dynamical critical properties of the Hepp-Lieb-Dicke phase transition by performing quenches across the phase boundary. We observe hysteresis in the transition between a normal phase and a self-organized collective phase with an enclosed loop area showing power law scaling with respect to the quench time, which suggests an interpretation within a general framework introduced by Kibble and Zurek.
Supercontrol of superradiance
The coherent scattering of radiation by matter, commonly referred to as Rayleigh scattering, is an ubiquitous phenomenon in nature with basic consequences such as the blue color of the sky. In ultracold gases superradiant Rayleigh scattering can be studied in the ultimate quantum mechanical limit when the atomic momentum is quantized in units of the single photon recoil momentum, a regime that has been termed matter wave superradiance. In a recent work - Phys. Rev. Lett. 113, 070404 (2014) - we show that by surrounding the cold gas with an optical high finesse cavity with very low bandwidth, the scattering channels of matter wave superradiance can be precisely controlled with possible applications as efficient matter wave beam splitters or multiple path matter wave interferometers. This work has been spotlighted in a synopsis in "APS Physics".
Optomechanical atom-cavity interaction in the sub-recoil regime
Cavity cooling below the recoil limit
Increased efficiency of rf-induced evaporative cooling by utilizing gravity
Theses
Vom dynamischen Phasenübergang im offenen Dicke Modell zum Dicke-Hubbard Modell
PhD thesis - Jens Klinder (2015)
Resonator-kontrollierte Materiewellen-Superradianz
PhD thesis - Hans Keßler (2015)
Laserkühlung in optischen Resonatoren unter der Rückstoßgrenze
PhD thesis - Matthias Wolke (2012)
Experiments with Ultra-Cold Atomic Ensembles in Optical Resonators with Ultra-High Finesse and Narrow Linewidth
PhD thesis - Julian Klinner (2009)
---