Dr. Volker Heesen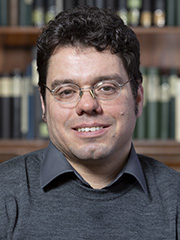 Photo: UHH/RRZ-MCC Mentz
Post-doctoral scientific staff
Address
Universität Hamburg
Gojenbergsweg 112
21029 Hamburg
Office
Direktorenvilla
Room: 009
Contact
Key aspects of activity
Radio observations of nearby galaxies
Star formation tracers
Cosmic-ray transport
F-Praktikum Radioastronomie
Research
See NASA ADS for a list of my papers.
I am a member of the LOFAR Magnetism Key Science Project (MKSP) and chair of the Nearby Galaxies Working group.
My research focuses on radio continuum observations of nearby galaxies and their application to describe the structure and evolution of galaxies in the Universe. In particular I work on:
Radio continuum as an extinction-free star-formation tracer
Radio haloes surrounding galaxies as a mean to study galactic winds
Radio polarisation to measure the large-scale magnetic field structure
More recently, I have embarked on a search for dark matter in galaxies using radio continuum observations from LOFAR. The non-dectection of the radio continuum emission in the dwarf spheroidal galaxy Canes Venatici I (CVnI) provides us with new upper limits for the cross section of weakly interacting massive particles (WIMPs). See the paper on arXiv. This study of one galaxy with LOFAR will be expanded to a larger sample of ~10 galaxies, which can be part of either a Bachelor- or Master-thesis.
Teaching
Bachelor- and Mastertheses
I offer several themes for possible Bachelor- and Mastertheses such as:
Search for dark matter in dwarf spheroidal galaxies with LOFAR
Modelling of cosmic-ray transport in nearby galaxies
A survey of star-forming galaxies with LOFAR
Please get in touch if you are interested!
Physikalisches Praktikum für Fortgeschrittene
The 3-m radio telescope of the Hamburg Observatory can be used in order to observe neutral hydrogen in the Milky Way. Using the Doppler shift of the 21-cm line, it is possible to derive the rotation curve of our own galaxy.  I am offering this experiment as part of the advanced lab course for undergraduate students. Please see here for more details.