Prof. Dr. Alexander Lichtenstein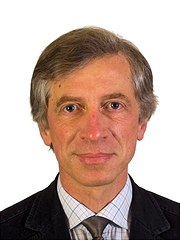 Research Group Leader
Theory of Magnetism and Electronic Correlations
Address
Universität Hamburg
Faculty of Mathematics, Informatics and Natural Sciences
Department of Physics
I. Institute for Theoretical Physics
Notkestraße 9-11
22607 Hamburg
Office
Room: 4010
Contact
---
Secretary's office
Secretary
I. Institute for Theoretical Physics
Notkestraße 9-11
22607 Hamburg
Room: 4115
Click here to go to the research group Theory of Magnetism and Electronic Correlations.
Scientific interests
Research topics:
Theory of exchange interactions in magnetic materials based on the density functional approach.
Development of efficient computational schemes which combine the precision of first-principle band-structure schemes with the complex treatment of electron-electron correlations for d- and f-electron systems (LDA+U, LDA+DMFT).
New generation of continuous time quantum Monte-Carlo methods for multiorbital impurity problem.
Investigation of non-local correlation effects in low-dimensional quantum systems within fully renormalized dual-fermion perturbation.