Prof. Dr. Peter Schmelcher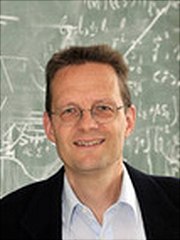 Photo: SFB925
Principal Investigator
Address
Universität Hamburg
Luruper Chaussee 149
22761 Hamburg, Germany
Office
Zentrum für Optische Quantentechnologien, Build. 90
Room: 101
Contact
Fax: +49 40 8998 6516
Website: http://photon.physnet.uni-hamburg.de/ilp/schmelcher/
 
Project C7
This project aim at a profound understanding and design of the non-equilibrium quantum dynamics taking place in strongly time-driven and interacting and consequently highly correlated bosonic ensembles.
Our methodological approach is the Multi-Configuration Time-Dependent Hartree for Bosons for which novel efficient algorithms will be developed and implemented. We explore the mechanisms of the driven highly excited dynamics in finite optical lattices for single and mixed (spinor) species ensembles with an emphasis on tunneling processes. The dimensionality crossover from one to two and finally three dimensions represents a particular focus aiming at the possibility to control the multi-channel tunneling, localisation and corresponding transport properties or to identify precursors of novel dynamical quantum phases.