Equal Opportunity Events
Gender equality and family specific workshops and events
Together with other collaborative research institutions on the Bahrenfeld campus a number of workshops and events dedicated to gender equality and famliy support related topics has been established over the last years.
These extremely succesful and widely accepted activities will repeatedly be arranged and adapted to special needs and ideas of the participants. So make sure to register early and participate in optimizing a work shop tailored especially for your needs.
Some examples of events are listed below.
Women's Career Day 2022
Vocal Power and Physical Presence for Female Scientists
This workshop will focus on strengthening vocal power through exercises on projection, enunciation, variation, and breath control. Relaxation techniques, physical grounding, posture awareness and gestures will hone in on your physical presence.
When: 3 + 4 November 2022 at 9:30 am - 2 pm
Where: CFEL, building 99, SR V
Women's Career Day 2021 for PhD students and postdocs
In two tailor-made workshops you are invited to develop and strengthen key skills that will be very useful for your present and future professional career, be that within academia or in business and industry. The trainers are carefully selected experts with many years of experience in teaching scientists.
The workshops run parallel from 1:30 - 5:00 p.m. on 28 April and 9:30 a.m. - 12:30 p.m. on 29 April 2021 and are reserved for female researchers from the research fields of Universität Hamburg's MIN faculty, DESY and associated research centers.
Women's Career Day 2020
The registration site for this year's Women's Career Day is open from today. In two tailor-made workshops you are invited to strengthen key skills that are useful for your present and future professional career, be that within academia or in business and industry.
·        Workshop 1. Career orientation for scientists
·        Workshop 2. Self-presentation for scientists
·        Keynote talk with Prof. Dr. Zehra Sayers (Sabanci University,
Istanbul):  "SESAME: a bright light in the Middle East"
Venue: online via Zoom
Date: 3 June 2020, 9 am – 7:30 pm
Registration & information:
https://indico.desy.de/indico/event/25554/overview
Please note: Early registration is recommended, and the number of places for the workshops is limited to 10. The allocation of the available places follows the "first come, first served" principle. Your registration is pending until the final confirmation from the organisers, which will be e-mailed to you after the end of the registration deadline on 25 May 2020.
Kick-Off-Ceremony - Mentoring for Women in Natural Sciences
28 June, 2017 6.00pm-8.30pm 
CFEL-Foyer (bld 99), Luruper Chausse 149
we will have the official "Kick-Off-Ceremony" to the second round of our program "Mentoring for Women in Natural Sciences", and you are dearly invited to join.
The project is a joint program of CUI, DESY, Max Planck Institute for the Structure and Dynamics of Matter, MIN Faculty Universität Hamburg, PIER Helmholtz Graduate School, SFB 676 and SFB 925.
The mentoring program is an exceptional cooperation between all partners. It aims at jointly implementing one of the main goals of Equal Opportunity measures: to further increase female participation on all levels in Natural Sciences.
Snacks and drinks will be provided. In order to allow a smooth organization, please register by 23 June:
https://indico.desy.de/conferenceDisplay.py?ovw=True&confId=17651
We are very much looking forward to seeing you at our "Kick-Off-Ceremony".
Women's Career Day 2015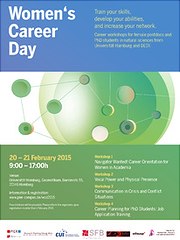 This years WCD will be held at Geomatikum on February 20 and 21.
Four Workshops will be offered dedicated to:
Career Orientation for Women in Academia
Vocal Power and Physical Presence
Communication in Crisis and Conflict Situations
Career Planning for PhD Students
Women and Leadership 2014

As a reaction to the overwhelming number of applications regarding the WCD in February yet another two-day workshop was organized and held on the Bahrenfeld-Campus in June 2014. The slightly shifted focus of this event was on bringing women in leading positions in science. Topics included 'understanding leadership', 'latest research results on leadership' and 'developing your own leadership style'. Again free childcare was provided.
Women's Career Day 2014

In February 2014 a two days workshop has been organized as a career event for women in physics and natural science. Several established speakers and trainers were invited to give presentation, lead plenary discussions and offer workshops on different gender specific and general career-relevant topics such as 'Media and Public relations in Academia', 'Women and Leadership', 'Project Management in Science' and 'Vocal power and Physical Presence'. Free childcare was provided to facilitate the participation for young mothers. The event was very well received and the number of applications exceeded the number of available places, so that the next WCDs are already planned.
Scientific Career and Parenthood 2013

In November 2013 this event was held on the Bahrenfeld-Campus and provided information on balancing scientific career with family life. Besides an open discussion on sharing strategies to manage science and family practical information was provided on topics such as 'legal ramifications of limited work contracts' or 'effects of claiming parental leave'. The participants' reactions were very positive and especially the networking character of the event was considered to be very helpful among the attendees.