Prof. Dr. Erika Garutti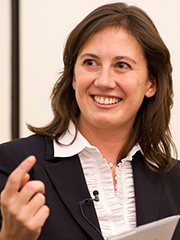 Head of Group
Detector Development
Address
Universität Hamburg
Faculty of Mathematics, Informatics and Natural Sciences
Fachbereich Physik
Institut für Experimentalphysik
Luruper Chaussee 149
22761 Hamburg
Office
Building 67b
Room: 031
Contact
I am interested in designing, building and commissioning detectors at the technology frontier. Part of my research is to apply the most modern techniques in silicon detectors and integrated readout electronics to the needs of the particle physics experiments operating at the highest possible energies and for the highest possible luminosity and precision reach.
I am also seeking the possibility to apply this knowledge to other fields like detectors for medical applications and photon science.
I believe the strengths of my group are in maximizing interdisciplinary exchange and cross-field fertilization between the various field of our research. The group is involved in detector development and fundamental detector physics studies in the frame of CMS, ILC/CLIC, XFEL, and PET detectors.