Prof. Dr. Peter Hauschildt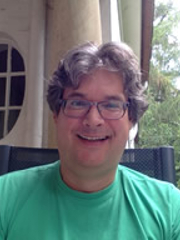 Photo: HS/Hauschildt
Professor of astronomy
Address
Universität Hamburg
Gojenbergsweg 112
21029 Hamburg
Office
Direktorenvilla
Room: 011
Contact
Research Interests
My main area of research is the modeling of stellar and planetary atmospheres using computer simulations with our Phoenix code. This is a large scale supercomputing application, my group regularily uses large parallel supercomputers that can be found in the top 10 of the world's fastest supercomputers.
Related topics are...
3D radiative transfer algorithms and their implementation.
continue the development & verification of PHOENIX/3D.
The atmospheres and spectra of novae, M dwarfs & giants, Brown Dwarfs, L/T dwarfs, T Tauri's, SNe, basically everything that radiates.
Irradiation of planets and secondaries of CVs
Analyses of Nova, M/L/T dwarf & giant, Brown Dwarf, T Tauri, and SN spectra.
The detailed physics of nova spectra, in particular line blanketing and NLTE effects.
Numerical methods for NLTE and radiative transfer calculations.
Line formation, blending and blanketing in (relativistically) expanding atmospheres.
Radiative transfer in relativistically expanding, spherical atmospheres.
Detailed NLTE calculations for extremely large model atoms.
Effective numerical methods to treat 100's of millions spectral lines individually with detailed profiles.
Molecular line opacities.
Line broadening in very cool stars.
Finishing the next versions of the M/L/T-O dwarf and nova model grids.
Models for Stellar Winds
Keeping PHOENIX/1D and PHOENIX/3D alive and happy (currently at version 16).
Publications
You can find a complete listing of my refereed publications on ADS.
Resume
I am Professor for Astronomy at the Hamburger Sternwarte (observatory), which is part of the Department of Physics of the University of Hamburg. I served as Dept. Chair from 01/2014 until 12/2015, as Deputy Dept. Chair for 3.5 years and as Managing Director of the observatory for 3 years. I am a member of the Lothar Collatz Center for Computing in Science.
My CV is available as PDF file