Dr. Roberto Lo Conte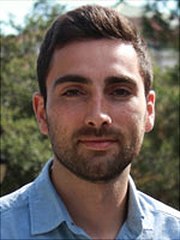 Scientific Staff
Scanning Probe Methods
Address
Universität Hamburg
Faculty of Mathematics, Informatics and Natural Sciences
Institute for Nanostructure and Solid State Physics
Jungiusstraße 11a
20355 Hamburg
Office
Room: 305
Contact
Curriculum Vitae
2021 - present

Research Associate at the Department of Physics, University of Hamburg

Investigation of magnet/superconductor hybrid quantum materials via scanning tunneling microscopy

2018 - 2020

Marie Curie Fellow at the Physics Department, University of Hamburg, Hamburg, Germany

2018 - 2019

Post-Doctoral Research Associate in the MSE Department, University of California, Berkeley, USA

2017

Marie Skłodowska-Curie Individual Fellowship (Global Fellowship) awarded by the European Commission

Room temperature stabilization and all-electrical manipulation of chiral spin structures in metallic multilayers

www.nanoscience.de/skdwontrack-project

2016 - 2017

Post-Doctoral Researcher in the EECS Department, University of California, Berkeley, USA

Electric field-based control of magnetism in multiferroic heterostructures

2012 - 2015

Ph.D. in Physics, Johannes Gutenberg University at Mainz, Germany

Magnetic nanostructures with structural inversion asymmetry

2012 - 2015

Materials Science in Mainz (MAINZ) Doctoral Scholarship
Research Interests
Main research interests
Non-collinear magnetic order, skyrmions, superconductivity, hybrid quantum systems, topological superconductivity.

Non-collinear magnetism
The development of materials systems with new functionalities is at the core of the design of the next generation information technologies. This technological motivation has driven the design and investigation of new magnetic materials with intrinsically stable magnetic states, easy to electrically manipulate and detect at a low energy cost. In the last years I focused my attention on the development of magnetic thin-film multilayers hosting non-collinear and topologically protected spin-structures such as chiral magnetic domain walls, spin-spirals and skyrmions.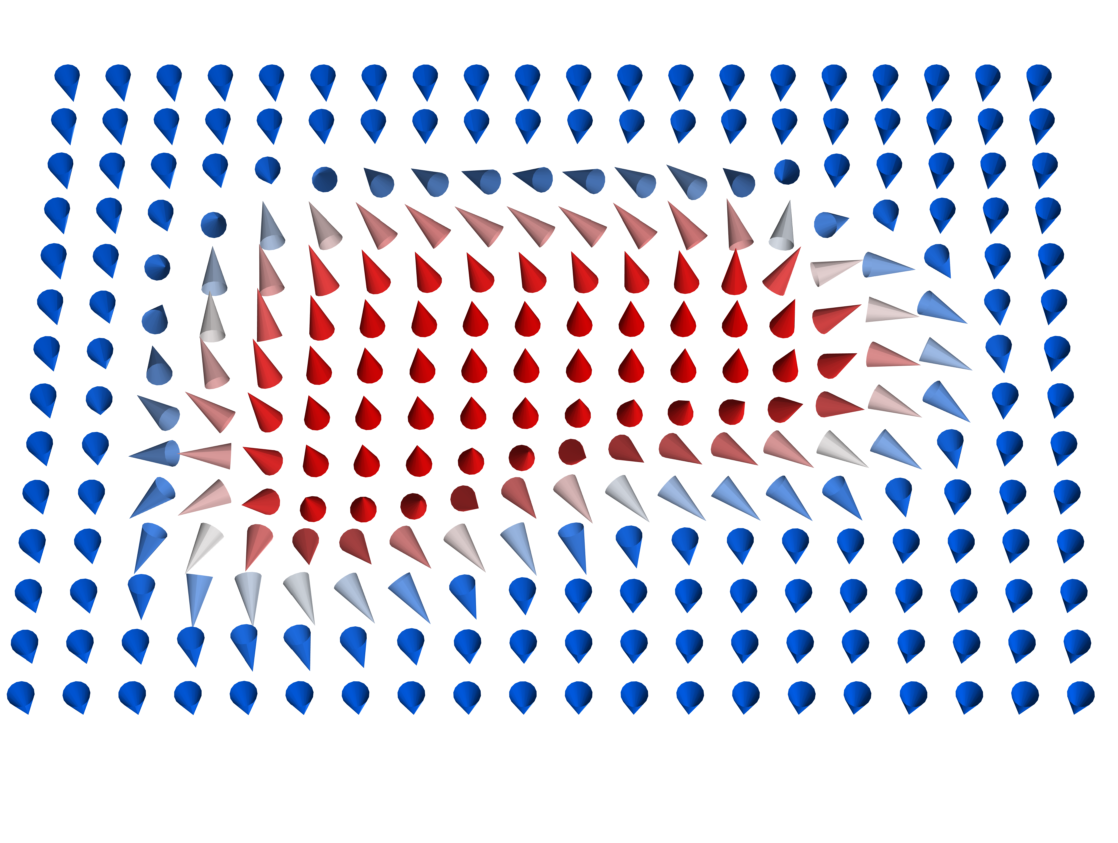 Computer-reconstracted spin texture of an experimentally observed magnetic skyrmion. The cones represent the local magnetization.

Topological superconductivity
More recently, I decided to use my expertise in non-collinear magnetic systems for the design of new hybrid quantum materials. One very promising approach to build quantum materials with tunable properties is given by magnet/superconductor hybrid systems, which hold high promises for applications in superconducting spintronics and quantum computing. Novel quantum effects are expected to emerge at the interface between a superconductor and a magnetic material, such as spin-polarized supercurrents and topologically protected electronic states. In light of the high promises magnet/superconductor hybrids hold for the design of future information technologies, the development of a materials platform where the quantum properties of those systems can be studied and optimized presents an enormous opportunity for fundamental research and technological advancement.
Track Record
ORCID: 0000-0002-5050-9978
Conferences, Seminars and Workshops (past and upcoming)
Invited
| | |
| --- | --- |
| Oct 2021 | Landau Seminar, Loughborough University (virtual) |
| Mar 2021 | APS March Meeting 2021 (virtual) |
| Nov 2020 | Eng. Physics Seminar, Ecole Polytechnique de Montreal (virtual) |
| Aug 2020 | Physics Seminar, Aarhus University (virtual) |
| Dec 2019 | Imaging Facility Seminar, Molecular Foundry, Lawrence Berkeley National Laboratory, Berkeley-CA, USA |
| Jul 2019 | Materials Science Seminar, University of California, Davis, CA, USA |
| Jan 2019 | 2019 Joint MMM-Intermag, Washington D.C., USA |
| Oct 2018 | 2018 Advanced Light Source (ALS) User Meeting, Berkeley-CA, USA |
| Jan 2018 | 2018 TANMS Annual Research Strategy Meeting (ARSM), Los Angeles-CA, USA |
Contributed (selected)
| | |
| --- | --- |
| Jun 2022 | 2D-SPM International Conference, San Sebastián, Spain |
| Mar 2022 | APS March Meeting 2022 (virtual) |
| Jul 2021 | ICN+T 2021 Conference (virtual) |
| Jun 2021 | Sol-SkyMag 2021 Conference (virtual) |
| Dec 2020 | Joint European Magnetic Symposia (JEMS) 2020 Conference (virtual) |
| Nov 2020 | Virtual Conference on Magnetism and Magnetic Materials (MMM) (virtual) |
| Nov 2019 | 64th Annual Conference on Magnetism and Magnetic Materials (MMM), Las Vegas-NV, USA |
| Jul 2028 | 21st International Conference on Magnetism, San Francisco-CA, USA |
| Nov 2017 | 62st Annual Conference on Magnetism and Magnetic Materials (MMM), Pittsburgh-PA, USA |
| Nov 2016 | 61st Annual Conference on Magnetism and Magnetic Materials (MMM), New Orleans-LA, USA |
| Sep 2016 | 10th LEEM/PEEM Conference, Monterey-CA, USA |
| Aug 2016 | GRC Conference: Multiferroic & Magnetoelectric Materials, Lewiston-ME, USA |
| Nov 2014 | 59st Annual Conference on Magnetism and Magnetic Materials (MMM), Honolulu, HI, USA |
Funding and projects
2021 - 2023
DFG

Individual Research Grant (2 years)

Investigation of tunable magnet/superconductor hybrid systems via scanning tunneling microscopy

Primary Institution: University of Hamburg

2018 - 2020
EU

Marie Skłodowska-Curie Individual Fellowship (Global Fellowship) (3 years)

Room temperature stabilization and all-electrical manipulation of chiral spin structures in metallic multilayers

Primary Institution: University of Hamburg

Host Institution: University of California, Berkeley
Teaching
Summer

2022

Lectures and Exercises (Master level) on
Surface Science and Magnetism (together with Kirsten von Bergmann and Jens Wiebe)
66-312 Nanostrukturphysik II - Magnetismus und Oberflächenphysik

University of Hamburg

Fall

2018

Lectures and Exercises (Graduate level) on
Magnetism, Magnetic Materials, and Magnetic Microscopies
MSE-204 Materials Characterization (main teacher: Prof. Andrew Minor)

University of California, Berkeley

Summer

2014

Exercises (Bachelor level) on
Experimental Physics I

Johannes Guthenberg University at Mainz

Winter

2013-2014

Exercises (Master level) on
Materials Science: Magnetism (main teacher: P.D. Dr. Andy Thomas)

Johannes Guthenberg University at Mainz
Publications
22

Coexistence of Antiferromagnetism and Superconductivity in Mn/Nb(110)

R. Lo Conte*, M. Bazarnik*, K. Palotás, L. Rózsa, L. Szunyogh, A. Kubetzka, K. von Bergmann, and R. Wiesendanger

Phys. Rev. B 105, L100406 (2022).

21
Observation of hydrogen-induced Dzyaloshinskii-Moriya interaction and reversible switching of magnetic chirality
G. Chen, M. Robertson, M. Hoffmann, C. Ophus, A. L. F. Cauduro, R. Lo Conte, H. Ding, R. Wiesendanger, S. Blügel, A. K. Schmid, and K. Liu
Phys. Rev. X 11, 021015 (2021).
20

Influence of dislocations and twin walls in BaTiO3 on the voltage-controlled switching of perpendicular magnetization

M. Goiriena-Goikoetxea, Z. Xiao, A. El-Ghazaly, C. V. Stan, J. Chatterjee, A. Ceballos, A. Pattabi, N. Tamura, R. Lo Conte, F. Hellman, R. Candler, and J. Bokor

Phys. Rev. Mater. 5, 024401 (2021).

19

Spin-orbit torque switching of a ferromagnet with picosecond electrical pulses

K. Jhuria, J. Hohlfeld, A. Pattabi, E. Martin, A. Y. A. Córdova, X. Shi, R. Lo Conte, S. Petit-Watelot, J. C. Rojas-Sanchez, G. Malinowski, S. Mangin, A. Lemaître, M. Hehn, J. Bokor, R. B.Wilson, and J. Gorchon

Nature Electronics 3, 680-686 (2020).

18

Large Dzyaloshinskii-Moriya interaction induced by chemisorbed oxygen on a ferromagnet surface

G. Chen, A. Mascaraque, H. Jia, B. Zimmermann, M. Robertson, R. Lo Conte, M. Hoffmann, M. A. González Barrio, H. Ding, R. Wiesendanger, E. G. Michel, A. K. Schmid, S. Blügel, and K. Liu

Science Advances 6, eaba4924 (2020).

17

Tuning the properties of zero-field room temperature ferromagnetic skyrmions by interlayer exchange coupling

R. Lo Conte, A. K. Nandy, G. Chen, A. L. F. Cauduro, A. Maity, C. Ophus, Z. Chen, A. T. N'Diaye, K. Liu, A. K. Schmid, and R. Wiesendanger

Nano Letters 20, 4739-4747 (2020).

16

Tunable magnetoelastic effects in voltage-controlled exchange-coupled composite multiferroic microstructures

Z. Xiao*, R. Lo Conte*, M. Goiriena-Goikoetxea, R. V. Chopdekar, C.-H. A. Lambert, X. Li, A. T. N'Diaye, P. Shafer, S. Tiwari, A. Barra, A. Chavez, G. P. Carman, K. L. Wang, S. Salahuddin, E. Arenholz, J. Bokor, and R. N. Candler

ACS Appl. Mater. Interfaces 12, 6752-6760 (2020)

15

Electric-field controlled magnetic reorientation in exchange coupled CoFeB/Ni bilayer microstructures

Z. Xiao, R. Lo Conte, M. Goiriena, R. V. Chopdekar, X. Li, S. Tiwari, C.-H. Lambert, S. Salahuddin, G. P. Carman, K. Wang, J. Bokor, and R. N. Candler

J. Phys.: Conf. Ser. 1407, 012024 (2019)

14

Cytocompatible magnetostrictive microstructures for nano- and microparticle manipulation on linear strain response piezoelectrics

Z. Xiao, R. Khojah, M. Chooljian, R. Lo Conte, J. D. Schneider, K. Fitzell, R. V. Chopdekar, Y. Wang, A. Scholl, J. P. Chang, G. Carman, J. Bokor, D. Di Carlo, and R. Candler

Multifunct. Mater. 1, 014004 (2018)

13

Modification of Dzyaloshinskii-Moriya Interaction-Stabilized Domain Wall Chirality by Driving Currents

G. V. Karnad, F. Freimuth, E. Martinez, R. Lo Conte, G. Gubbiotti, T. Schulz, S. Senz, B. Ocker, Y. Mokrousov, and M. Kläui

Phys. Rev. Lett. 121, 147203 (2018)

12

Electrically controlled switching of the magnetization state in multiferroic BaTiO3\CoFe sub-micron structures

R. Lo Conte, J. Gorchon, A. Mougin, C. H. A. Lambert, A. El-Ghazaly, A. Scholl, S. Salahuddin, and J. Bokor

Phys. Rev. Mater. 2, 091402(R) (2018)

11

Evidence for phonon skew scattering in the spin Hall effect of platinum

G. V. Karnad, C. Gorini, K. Lee, T. Schulz, R. Lo Conte, A. W. J. Wells, D.-S. Han, K. Shahbazi, J.-S. Kim, T. A. Moore, H. J. M. Swagten, U. Eckern, R. Raimondi, and M. Kläui

Phys. Rev. B 97, 100405 (2018)

10

Bi-directional coupling in strain-mediated multiferroic heterostructures with magnetic domains and domain wall motion

Z. Xiao, R. Lo Conte, C. Chen, C.-Y. Liang, A. Sepulveda, J. Bokor, G. P. Carman, and R. N. Candler

Sci. Rep. 8, 5207 (2018)

9

Influence of Non-Uniform Micron-Scale Strain Distributions on the Electrical Reorientation of Magnetic Micro-Structures in a Composite Multiferroic Heterostructure

R. Lo Conte, Z. Xiao, C. Chen, C. V. Stan, J. Gorchon, A. El-Ghazaly, M. E. Nowakowski, H. Sohn, A. Pattabi, A. Scholl, N. Tamura, A. Sepulveda, G. P. Carman, R. N. Candler, and J. Bokor

Nano Lett. 18, 1592 (2018)

8

Enhanced magnetoelectric coupling in a composite multiferroic system via interposing a thin film polymer

Z. Xiao, K. P. Mohanchandra, R. Lo Conte, C. Ty Caraba, J. D. Schneider, A. Chavez, S. Tiwari, H. Sohn, M. E. Nowakowski, A. Scholl, S. H. Tolbert, J. Bokor, G. P. Carman, and R. N. Candler

AIP Adv. 8, 055907 (2018)

7

Effective field analysis using the full angular spin-orbit torque magnetometry dependence

T. Schultz, K. Lee, B. Krüger, R. Lo Conte, G. V. Karnad, K. Garcia, L. Vila, B. Ocker, D. Ravelosona, and M. Kläui

Phys. Rev. B 95, 224409 (2017)

6

Ferromagnetic layer thickness dependence of the Dzyaloshinskii-Moriya interaction and spin-orbit torques in Pt\Co\AlOx

R. Lo Conte,* G. V. Karnad,* E. Martinez, K. Lee, N.-H. Kim, D.-S. Han, J.-S. Kim, S. Prenzel, T. Schulz, C.-Y. You, H. J. M. Swagten, and M. Kläui

AIP Adv. 7, 065317 (2017)

5

Control of the Magnetic Configuration of Ferromagnetic Nanostructures Across the Structural Phase Transition of Vanadium Dioxide

S. Finizio, M. Vafaee, I. Valmianski, R. M. Reeve, R. Lo Conte, A. Kleibert, I. K. Schuller and M. Kläui

IEEE Magn. Lett. 7, 6106604 (2016)

4

Spin-orbit torques for current parallel and perpendicular to a domain wall

T. Schulz, O. Alejos, E. Martinez, K. M. D. Hals, K. Garcia, L. Vila, K. Lee, R. Lo Conte, G. V. Karnad, S. Moretti, B. Ocker, D. Ravelosona, A. Brataas, and M. Kläui

Appl. Phys. Lett. 107, 122405 (2015)

3

Role of B diffusion in the interfacial Dzyaloshinskii-Moriya interaction in Ta/Co20Fe60B20/MgO nanowires

R. Lo Conte, E. Martinez, A. Hrabec, A. Lamperti, T. Schulz, L. Nasi, L. Nazzarini, R. Mantovan, F. Maccherozzi, S. S. Dhesi, B. Ocker, C. H. Marrows, T. A. Moore, and M. Kläui

Phys. Rev. B 91, 014433 (2015)

2

Spin-orbit torque-driven magnetization switching and thermal effects studied in Ta\CoFeB\MgO nanowires

R. Lo Conte, A. Hrabec, A. P. Mihai, T. Schulz, S.-J. Noh, C. H. Marrows, T. A. Moore, and M. Kläui

Appl. Phys. Lett. 105, 122404 (2014)

1

Sub-10 nm colloidal lithography for circuit-integrated spin-photo electronic devices

A. Iovan, M. Fischer, R. Lo Conte, and V. Korenivski

Beilstein J. Nanotech. 3, 884 (2012)

*Equal contribution

PhD

Thesis

Magnetic nanostructures with structural inversion asymmetry

Roberto Lo Conte

Dec 2015

Main Advisor: Prof. Mathias Kläui (Johannes Gutenberg University of Mainz)

Co-Advisor: Prof. Thomas A. Moore (University of Leeds)