Research
Novel X-ray light sources based on plasma-wakefield acceleration
Synchrotrons and free-electron lasers (FELs) are the most powerful sources of X-ray radiation. They constitute invaluable tools for a broad range of research (medicine, biology, chemistry, physics), however, due to their kilometer-scale sizes only a few of these sources exist worldwide. In contrast, ultra-compact, laser-driven plasma-wakefield accelerators provide markedly increased accelerating fields and hence offer the potential to shrink the size and cost of these X-ray facilities to university-laboratory scale.
We have been pioneering the field of "table-top FELs" ever since laser-plasma accelerators have been emerging. In 2009 we demonstrated the world's first laser-driven soft X-ray undulator (LUX) source based on a laser-plasma accelerator (Fuchs et al., Nature Physics, 2009).
Apart from driving FEL- or LUX-sources, electrons from a laser-plasma accelerator can also drive a Thomson-source, where a part of the driver-laser pulse is scattered off the laser-accelerated electrons to emit undulator-like radiation in the hard X-ray range (50-100 keV). Currently, our team is working closely with the DESY group led by Dr. Jens Osterhoff on the establishment of such an all-optical, laser-plasma accelerator-based Thomson source for generating X-ray beams suitable for our research program on biomedical imaging. This allows for novel biomedical imaging modalities that require pencil X-ray beams, such as X-ray Fluorescence Imaging (XFI, see below). One future goal is to enable XFI in hospitals for new diagnostics for which compact sources are required.
A recent design study for such a source was published in T. Brümmer et al., Physical Review Accelerators and Beams, 2020.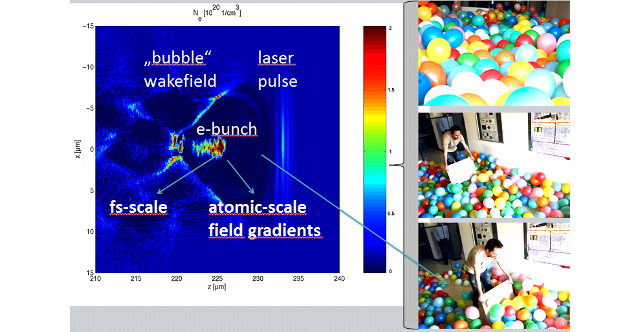 In order to reach the goal of a "table-top FEL" we also set up an experiment at DESY's REGAE-facility to study external injection of REGAE-accelerated electrons into a laser-driven plasma-wakefield. This studies will help understanding the dynamics and growth of the emittance of the electrons – a key to fine-tune the FEL-experiment.
Biomedical X-ray Fluorescence Imaging (XFI)
XFI is based on the emission of X-ray fluorescence photons upon excitation of XFI marker elements by scanning X-ray beams. This allows for tracking different medical agents, such as immune cells or drug molecules. To make such agents visible for XFI, they need to be labelled with XFI marker elements, such as nanoparticles or molecular tracers. For these labelling challenges, we cooperate closely with our nanoscience institute (Prof. Dr. Wolfgang Parak) and the Fraunhofer Institute CAN (Prof. Dr. Horst Weller, Dr. Neus Feliu, Dr. Oliver Dabrowski).
Together with the group of Prof. Dr. Christoph Hoeschen (University of Magdeburg), we have presented a feasibility study on applying gold-nanoparticle assisted XFI even for human-sized objects (F. Grüner et al., Scientific Reports, 2018).
The key goal of our current research, which closely involves groups from the University Hospital UKE (Prof. Dr. Samuel Huber, Prof. Dr. Udo Schumacher, Prof. Dr. Kai Rothkamm, PD Dr. Rene Werner), is to enable pre-clinical XFI for tracking immune cells (e.g. studying immune-mediated inflammation diseases) and a next-generation of pharmacokinetics (e.g. the biodistribution of cytostatics in solid tumor models).
Both key applications aim at the in-vivo detection of smallest amounts of XFI-labels. The basic challenge here is to find a way to effectively reduce the intrinsic background in XFI made up by multiple Compton-scattered photons.
We have already performed pilot studies at DESY's PETRA-III synchrotron aiming at the detection of unprecedented small local amounts of XFI-markers (F. Grüner et al., Scientific Reports, 2018; C. Sanchez-Cano, et al., ACSNano, 2021; O. Schmutzler et al., Int. J. Mol. Sci., 2021, H. Kahl et al., Int. J. Mol. Sci., 2021).


In cooperation with the group of Prof. Hoeschen (U Magdeburg) we are currently also working on further X-ray imaging methods besides XFI which also need a pencil X-ray beam as delivered by synchrotrons and laser-based Thomson-sources. 
Our team provides possibilities for contract research in the area of preclinical imaging. Upon reasonable request to the group leader(florian.gruener"AT"uni-hamburg.de) we can send you a brochure with key aspects. Contract research is always negotiated and set up with the University administration, our team then plans, performs, and analyses the measurements.
Astrophysics in the Lab
Recently, within the Cluster of Excellence "Quantum Universe" framework we also initiated a program on astrophysical experiments in the lab. Hence, our research group does not only set up laser-plasma accelerator experiments for driving Thomson-sources for biomedical imaging (see above), but also studies the generation of neutral electron-positron pair-beams and their beam-plasma instabilities when they move through a second plasma stage downstream, thus mimicking cosmic ray instabilities.
Our aim here is to vary relevant parameters such as the electron beam vs. ambient plasma densities in order to study the scalability of lab results onto astrophysical scales. The key challenge here is to find a way of transporting the neutral pair-beam in such a way that an inverted momentum spectrum builds up which then triggers the onset of self-amplifying beam-plasma instabilities.
There is a direct link between this laboratory astrophysics project and biomedical imaging - as for both fields advanced X-ray detectors are needed: the pair-beam generation is based upon the conversion of Bremsstrahlung-photons into electron-positron pairs, hence a precise knowledge of the Bremsstrahlung spectrum is required which can only be obtained with energy-resolved, high efficiency detectors. Such devices are also needed for the almost background-free detection of XFI-photons.