Quantum Hybrid Systems
Photo: UHH, RRZ/MCC, Mentz
Jakob Butlewski, Tobias Wagner, Felix Klein, Philipp Rohse,  Cody Friesen, Dr. Alexander Schwarz,  Prof. Roland Wiesendanger, Prof. Klaus Sengstock, Dr. Christoph Becker
Summary
In our project we aim at the realization of a quantum hybrid system. Research on quantum hybrid systems strives to combine the benefits of different quantum objects into a new entity that is more useful than each of the systems by itself. That includes properties like storage of quantum states, ability to sense very small forces, fast gate times in quantum computational application and many more.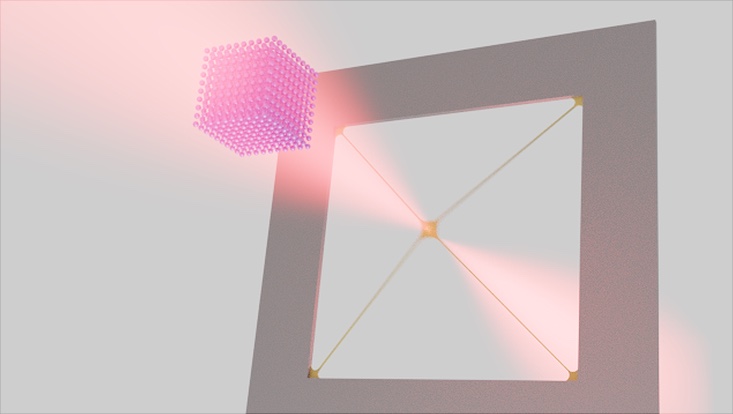 Photo: UHH/Friesen
Artists view of an atom-mechanical quantum hybrid system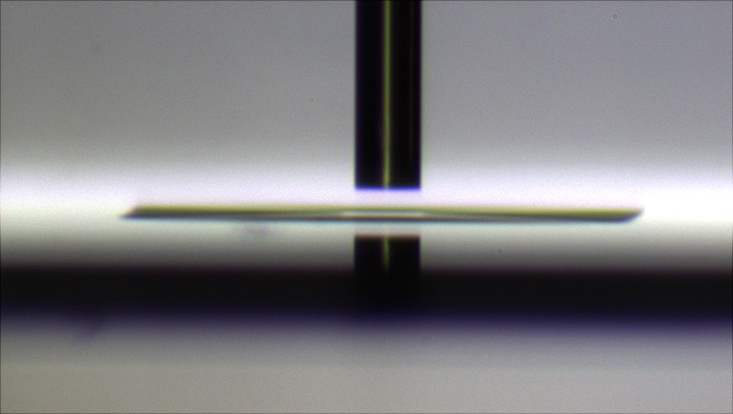 Photo: UHH/Becker
Alignment of a membrane-in-the-middle system after implementing a new trampoline oscillator
Photo: UHH/Klein
CO2 laser machined fiber tip used as a building block for a micro fiber cavity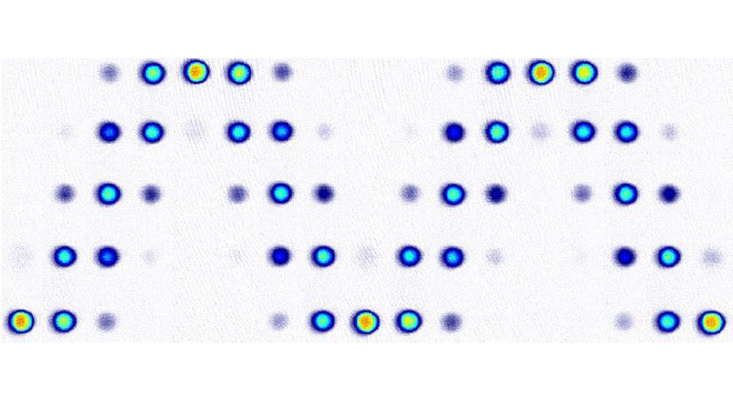 Photo: UHH/Schellong
Rabi oscillations of 87Rb atoms driven by radio frequency
Photo: UHH/Zhong
Image of a state-of-the-art trampoline oscillator with Q=1*108
Introduction
In our experiment we couple an ensemble of cold or ultracold  87Rb atoms to a cryogenic nano-mechanical oscillator via light. Our ultimate goal is the coherent coupling of two macroscopic quantum objects namely the Bose-Einstein condensate and the ground state nano-mechanical oscillator, in our case a SiN trampoline oscillator. Such a system would be the ideal testing bed for investigating the classical to quantum transition of macroscopic objects and furthermore allow studying different approaches to transduce quantum information between very different physical qubits, like e.g. atomic spin systems, super conducting qubits, trapped ions or photons. In first experiments we  studied in detail the coupling of external degrees of freedom of the atoms in an optical lattice to the motion of different high quality nano-mechanical oscillators. We sympathetically cooled these oscillators down to less than 25 mK by coupling them to laser-cooled atoms. 
The project ist carried out in close collaboration with the group of Prof. Roland Wiesendanger
Experimental Setup
We produce Bose-Einstein condensates of 87Rb by first laser cooling them in a combined 2D-3D Magneto-Optical Trap. This setup has proven very reliable and allows for the fast and more importantly very reproducible production of large BEC. After an additional sub-doppler cooling stage the atoms are transferred to a magnetic trap and evaporatively cooled to quantum degeneracy. We then adiabatically superimpose a 1D or a 3D optical lattice which mediates the coupling of the atoms to the micro-mechanical oscillator.
The oscillator itself is placed inside a fiber cavity which resides in a dilution fridge allowing for base temperatures of 30 mK.
To keep the system flexible and largely tunable we employ a tunable Ti:Saph lattice laser that allows us to adjust the detuning and power according to our specific experimental requirements. For each setting an optimal trade-off between heating the atoms and heating the oscillator can be set in this way to minimize the overall decoherence in the system.
Fiber Cavities
To be flexible and adapt to new experimental challenges we produce our own fiber cavities by the established method of machining them with well-defined pulses of a CO2 laser. We apply laser pulses to the end facettes of a usual optical fiber until we obtain a surface profile that is reminiscent of a parabolic mirror suitable to serve as one of the end mirrors of an optical cavity.
We inspect the fiber surface in-situ by means of interferometric imaging and continue to apply CO2 laser pulses until we obtain the desired curvature of the end facette. Typically the radii of curvature of these mirrors are on the order of 100 µm. Subsequently we place a HR coating on the fiber ends and finally adjust two such mirrors to obtain a high-finesse optical cavity. In the literature finesses as high as 60000 have been reported for such a setup. This allows for strong opto-mechanical coupling between the cavity light field and the nano-mechanical oscillator.
Theses
PhD Theses
Feedback-assisted Sympathetic Cooling in a Hybrid Atomic-mechanical System
PhD thesis of Philipp Christoph (2018)
Towards a Hybrid Quantum System
PhD thesis of Christina Staarmann (2016)
Interfacing Ultracold Atoms and a Cryogenic Micromechanical Oscillator
PhD thesis of Andreas Bick (2015)
Master Theses
Simulations and Fabrication of Optical Fiber Cavities for a Quantum Hybrid System
Master  thesis of Jan Petermann (2017)
Homodyne Detection of a Nanomechanical Oscillator for Thermometry and Active Feedback Cooling
Master thesis of Tobias Wagner (2016)
Fiber Cavities for Quantum Optomechanics: Concepts, Manufacturing and Characterization
Master thesis of Philipp Christoph (2013)
BachelorTheses
Untersuchung von Faraday-Rotation zur Kopplung interner Freiheitsgrade eines BEC an einen nanomechanischen Oszillator
Bachelor thesis of Josina Hahne (2019)
Präparation und Manipulation von mf-Zuständen in einem mehrkomponentigen Bose-Einstein-Kondensat
Bachelor thesis of Clara Schellong (2019)
Herstellung und Charakterisierung von Fasercavities zum Einsatz in MiM-Systemen
Bachelor thesis of Christian Felix Klein (2018)
Aufbau eines 2D optischen Gitters für ein Quantenhybridsystem aus kalten Atomen und einem kryogenen nanomechanischen Oszilllator
Bachelor thesis of Daniel Voigt (2017)
Design und Implementierung einer aktiven Magnetfeldkompensation für ein Quantengasexperiment
Bachelor thesis of Jan-Philipp Bureik (2016)
Aufbau und Charakterisierung einer gekreuzten Dipolfalle für kalte Atome
Bachelor thesis of Benjamin Abeln (2014)
Hochfinesse-Filterresonatoren zur Detektion quanten-optomechanischer Signale
Bachelor thesis of René Chaeib (2014)
Untersuchungen zum Aufbau eines optischen Faserresonators im Vakuum
Bachelor thesis of Philip Rothfos (2013)
A Diffraction Limited Objective Lens for the Detection of Bose-Einstein Condensates Coupled to Micro-Mechanical Devices
Bachelor thesis of Martin Jambor (2012)