Lithium Microscope
Photo: UHH, RRZ/MCC, Mentz
Experimental Setup
For a high repetition rate, we use a simple single-chamber setup: an atomic jet from a 2D-MOT loads the MOT in a glass cell. The atoms are further cooled via a grey molasses and then loaded into an optical dipole trap. Evaporation close to the Feshbach resonance brings the sample to degeneracy.

The 2D confinement is provided by a vertical accordeon lattice, which can be compressed dynamically. The atoms will then be loaded into a microtrap produced via the high-resolution objective just below the glass cell. For the current status of the construction, see below. For imaging, the atoms will be pinned in a very deep triangular lattice and illuminated with resonant laser light to induce fluorescence.
Theses
PhD Theses
A novel Apparatus for Quantum Gas Microscopy of Lithium Atoms
PhD Thesis of Andreas Kerkmann (2019)
Master Theses
Applications of Neural Networks in Quantum Gas Experiments
Master Thesis of Bastian Lunow (2020)
An optical dipole trap and an accordion lattice for a quantum gas microscope
Master Thesis of Mathis Fischer (2018)
A Reconstruction Algorithm for Fluorescence Images of Lithium Atoms in a Triangular Optical Lattice
Master Thesis of Jan Mika Jacobsen (2017)
Magnetfeldspulen und ein Interferometer für ein Quantengasmikroskop mit Lithiumatomen
Master Thesis of Michael Hagemann (2016)
Ein Lasersystem zum Fangen und Kühlen von bosonischem und fermionischem Lithium
Master Thesis of Andreas Kerkmann (2015)
Bachelor Theses
Dynamische optische Potentiale mit einem Lichtmodulator
Bachelor Thesis of Marco Stolpmann (2020)
Untersuchung von Resonatoren für die Stabilisierung von Laserstrahlquellen
Bachelor Thesis of Jonathan Schwardt (2019)
Örtliche Lichtmodulatoren zum Einsatz in Quantengasexperimenten
Bachelor Thesis of Katinka Horn (2018)
Ein hochstabiler Resonator für ein Quantengasmikroskop mit Lithiumatomen
Bachelor Thesis of Bojan Hansen (2018)
Charakterisierung eines hochauflösenden Abbildungssystems
Bachelor Thesis of Tobias Petersen (2018)
Massgeschneiderte optische Fallen mit Hilfe örtlicher Lichtmodulatoren
Bachelor Thesis of Justus Brüggenjürgen (2017)
Aufbau und Charakterisierung einer Lithium-MOT
Bachelor Thesis of Malte Hagemann (2017)
Frequenzstabilisierung eines Diodenlasers mithilfe eines Offsetlocks und Spektroskopie an molekularem Iod
Bachelor Thesis of Cora Braun (2016)
Aufbau und Planung einer Intensitätskontrolle für eine Dipolfalle zur evaporativen Kühlung von Lithiumatomen
Bachelor Thesis of Yann Kiefer (2016)
Aufbau einer Laserspektroskopie für Lithium und Charakterisierung elektrooptischer Modulatoren
Bachelor Thesis of Jan Mika Jacobsen (2015)
Entwicklung eines modularen Kamera-programms für Quantengasexperimente
Bachelor Thesis of Niels-Ole Rohweder (2014)
Trapping and Imaging of Single Atoms in an Optical Lattice
Intership Report of Shuwei Jin (2014)
Saturated Absorption Spectroscopy and Design of an Ultra-High-Vacuum Chamber for a Lithium Quantum Gas Experiment
Bachelor Thesis of Marcel Bankau (2014)
The Lithium Team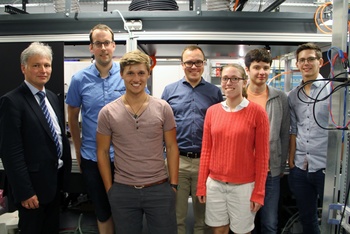 Lithium team (2016) from left to right: Prof. Dr. Sengstock (principal investigator), Dr. Benno Rem (post doc), Justus Brüggenjürgen (Bachelor student), Dr. Christof Weitenberg (principal investigator), Cora Braun (Bachelor student), Michael Hagemann (PhD student), Andreas Kerkmann (PhD student).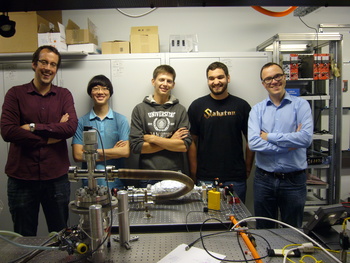 Lithium team (2014) from left to right: Dr. Benno Rem (postdoc), Shuwei Jin (intern), Andreas Kerkman (Master student), Marcel Bankau (Bachelor student), Dr. Christof Weitenberg (principal investigator) (not in the picture: Prof. Klaus Sengstock)