Bose-Fermi mixtures
Photo: UHH, RRZ/MCC, Mentz
Introduction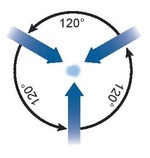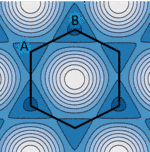 In this project, we work with mixtures of fermionic potassium (40K) and bosonic rubidium (87Rb) quantum gases in optical lattices. This system offers unique experimental possibilities for the exploration of fundamental quantum mechanics and condensed matter physics using the high degree of control and the tunability of the interactions via Feshbach resonances. In the current experiments, we use the bosonic rubidium for sympathetic cooling of the fermionic potassium gas in order to bring it to quantum degeneracy with large particle numbers.
Currently we work with tunable hexagonal lattices, which we control via the polarisation of the three lattice beams intersecting under 120°. Starting from a honeycomb lattice, we can break inversion symmetry by adding an energy offset between the A and B sites of the lattice. We have recently created topological bands by near-resonant dressing of the two lowest bands and have studies various topological effects, such as the Berry curvature, dynamical linking number and quantized circular dichroism. In the future we want to study spin-mixtures in these bands in order to understand the intriguing interplay between interactions and topological band structures leading, e.g., to fractional Chern insulators.
Moreover, we are interested in the application of machine learning techniques in quantum physics and have used them for the identification of topological phases from single momentum-space images.
The BFM Team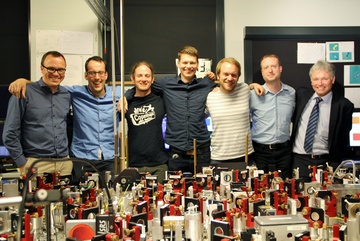 BFM team (2016) from left to right: Dr. Christof Weitenberg (principal investigator), Dr. Benno Rem (post doc), Dominik Vogel (PhD student), Matthias Tarnowski (PhD student), Nick Fläschner (PhD student), Dr. Dirk-Sören Lühmann (theory support), Prof. Dr. Klaus Sengstock (principal investigator).
Theses
PhD Theses
Measuring Geometry and Topology of Floquet-Bloch States in and out of Equilibrium with Ultracold Fermions
PhD Thesis of Dominik Vogel (2018)
Ultracold Fermions in Tunable Hexagonal Lattices: From High-Precision Spectroscopy to the Measurement of Berry Curvature
PhD Thesis of Nick Fläschner (2016)
Coherent Spin Dynamics in Fermionic Quantum Gases: From Two-Body to Many-Body Physics
PhD Thesis of Jasper Simon Krauser (2014)
From higher bands to higher spins: Ultracold fermions in novel regimes
PhD Thesis of Jannes Heinze (2013)
Bragg Spectroscopy in Optical Lattices and the Physics of Quantum Gas Mixtures
PhD Thesis of Philipp T. Ernst (2009)
Fermi-Bose mixtures -- From mean-field interactions to ultracold chemistry
PhD Thesis of Christian Ospelkaus (2006)
Quantum Degenerate Fermi-Bose Mixtures of 40K and 87Rb in 3D Optical Lattices
PhD Thesis of Silke Ospelkaus-Schwarzer (2006)
Master/Diploma Theses
Analyzing Many Body Physics with Machine Learning
Master Thesis of Niklas Käming (2020)
Optische Kagome-Gitter für ultrakalte Gase: Numerische Floquet-Rechnungen und Überlegungen zur experimentellen Umsetzung
Master Thesis of Marcel Kosch (2019)
Implementation and Characterization of a Gray Molasses and of Tunable Hexagonal Optical Lattices for 40K
Master Thesis of Matthias Tarnowski (2015)

Multi-Band Spectroscopy in Triangular Lattices & Single-Shot 3D Imaging
Master Thesis of Friedrich Fröbel (2014)

Tunable Interactions and Lattice Geometries in Fermionic Quantum Gases
Master Thesis of Maria Langbecker
Higher Lattice Orbital Dynamics and Feshbach Resonances in Ultracold 40K
Diploma Thesis of Nick Fläschner
Momentum-Resolved Optical Lattice Modulation Spectroscopy on Bose-Fermi Mixtures
Diploma Thesis of Bastian Hundt
Observation of the Amplitude Mode in Strongly Correlated Bose-Einstein Condensates
Diploma Thesis of Malte Weinberg
Impulsaufgelöste Bragg-Spektroskopie an bosonischen Quantengasen in optischen Gittern
Diploma Thesis of Jasper Krauser
Bragg-Spektroskopie an entarteten Quantengasen in optischen Gittern
Diploma Thesis of Karsten Pyka
Untersuchung und Manipulation von Quantengasmischungen aus 87Rb und 40K
Diploma Thesis of Leif Humbert
Degenerate Quantum Gases in Optical Lattice Potentials
Diploma Thesis of Manuel Succo
Aufbau eines 3D-optischen Gitters für quantenentartete Fermi-Bose-Mischungen aus 87Rb und 40K
Diploma Thesis of Oliver Wille
Kohärente Grundzustandsmanipulation von fermionischem Kalium bei hoher Teilchenzahl
Diploma Thesis of Marlon Nakat
Aufbau und Charakterisierung einer Magnetfalle zur simultanen Speicherung von 87Rb und 40K
Diploma Thesis of Ralf Dinter
Aufbau und Charakterisierung einer 2D-3D magnetooptischen Fallenkombination für 87Rb
Diploma Thesis of Jürgen Fuchs
Bachelor Theses
Untersuchungen zu optischen Gittern mit flachen oder topologischen Bändern
Bachelor Thesis of Florian Kluge (2020)
Charakterisierung von Komponenten zur Realisierung eines optischen Kagome-Gitters
Bachelor Thesis of Thomas Schmoranzer (2019)
Einsatz von Pockelszellen zur Modulation optischer Gitter
Bachelor Thesis of Niklas Käming (2017)
Aufbau und Charakterisierung einer optischen Dipolfalle im Rahmen von ultrakalten Bose-Fermi-Atom-Mischungen
Bachelor Thesis of Malte Oeschger (2017)
Floquet-Rechnung der resonanten Kopplung von Bändern in getriebenen hexagonalen Gittern
Bachelor Thesis of Florian Jochheim (2016)
Dynamische Kontrolle der Geometrie optischer Gitter
Bachelor Thesis of Hauke Schmidt (2015)