Dr. Christof Weitenberg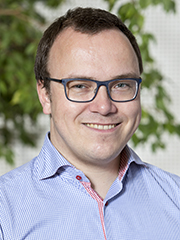 Post-doctoral scientific staff
Address
Universität Hamburg
Institut für Laserphysik
Luruper Chaussee 149
22761 Hamburg
Office
Building 69 (ILP)
Room: 220
Contact
Christof Weitenberg is a senior scientist in the group of Prof. Dr. Klaus Sengstock.
He studied physics and music in Saarbrücken. In 2007 he joined the group of Prof. Dr. Immanuel Bloch in Mainz working in the project of Prof. Dr. Stefan Kuhr on single atom imaging and addressing in optical lattices. After the group moved to Munich in 2009, he received his PhD in 2011 from the Ludwig-Maximilians-University Munich, winning the Otto Hahn Medal of the Max Planck Society.
From 2011 to 2013 he worked as a postdoctoral research fellow in the group of Prof. Dr. Jean Dalibard in Paris on two-dimensional Bose gases.
In 2018 he obtained an ERC Starting Grant entitled "Engineering and exploring anyonic quantum gases".
Curriculum Vitae (PDF)
Teaching
lectures on "ultracold atoms in optical lattices" at the "School on Interaction of Light with Cold Atoms", January 30 – February 10, 2017 in São Paulo, Brazil (ICTP-SAIFR/IFT-UNESP)