Lukas Terkowski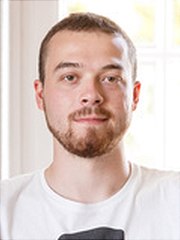 PhD student
Address
Universität Hamburg
Institut für Laserphysik
Luruper Chaussee 149
22761 Hamburg
Office
Building 69 (ILP)
Room: 118
Contact
Key aspects of activity
Amorphous silicon mirror coatings for gravitational wave detectors
Lukas Terkowski is a Ph.D. student currently working on amorphous silicon mirror coatings for gravitational wave detectors.
He wrote his Bachelor's thesis at the Institute of Laser Physics at University of Hamburg in the Solid State Lasers group of Prof Dr Günter Huber, working on femtosecond laser written curved waveguide lasers in 2014.
Lukas joined the group of Prof. Dr. Roman Schnabel as a Master Student in 2016 and began to work on optomechanics with squeezed light. After finishing his Master's thesis he switched to his cuurent field of research for gravitational wave detectors.
Lukas is a member of the Deutsche Physikalische Gesellschaft (DPG).
Bachelor's thesis
"Femtosecond laser written curved waveguide lasers in Yb:YAG"
Universität Hamburg (2014)
Master's thesis
"Optomechanics in a standing–wave resonator with squeezed light"
Universität Hamburg (2017)