Hossein Masalehdan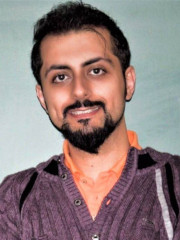 PhD student
Address
Universität Hamburg
Institut für Laserphysik
Luruper Chaussee 149
22761 Hamburg
Office
Building 69 (ILP)
Room: 118
Contact
Key aspects of activity
Squeezed light enhanced Quantum Tomography of the radiation pressure in Optomechanical chips
Chip scale mechanical oscillators
Hossein (Amir Hossein) Masalehdan joined the Nonlinear Quantum Optics lab as Marie Skłodowska-Curie research fellow in April 2018. His research involves the experimental approaches to measure the radiation pressure of light coupled to optomechanical systems below the SQL.
Prior to joining Prof. Schnabel's group, Hossein did his bachelors in engineering physics and masters in physics both in the areas of Optics and laser, respectively. During early years of undergraduate studies, Hossein joined the Advanced Laser Physics Lab at Azarbaijan SM University (Tabriz-Iran) where he worked on USP-Lasers interaction mechanisms with transparent materials under the supervision of Prof. Kazem jamshidi which concluded to publishing his first paper in 2009. Afterward, his research broadened in nonlinear optics, nano optics, and biophotonics. His bachelor thesis was about the higher orders of optical aberrations and the laser-assisted nano surgeries of the cornea. During masters, he continued his research in theoretical photonics and mainly 1D photonic crystals. However, his master thesis was about the nonlinear optical properties of graphene derivatives which implemented both at Azarbaijan SM University and Tampere University of Technology in Finland. From 2009 to 2017, Hossein contributed to publishing over 40 papers in peer-reviewed journals and conference proceedings and was reviewer for various journals (e.g., OSA, IEEE, SPIE, Springer, and Elsevier) and conferences.
Hossein is the fellow of EU project entitled Optomechanical technologies (OMT) and a member of LIGO Scientific Collaboration. In addition, in 2019 he was an early career council member of CHAMPP (Center in Hamburg for Astro/Mathematical/particle Physics) at Quantum Universe. And, a member of OSA, APS, IEEE, and SPIE.