Julian Göttsch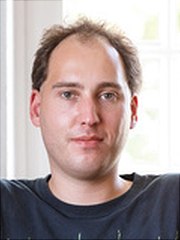 PhD student
Address
Universität Hamburg
Institut für Laserphysik
Luruper Chaussee 149
22761 Hamburg
Office
Building 69 (ILP)
Room: 118
Contact
Key aspects of activity
Schrödinger kitten states
Julian Göttsch is a Ph.D. student working on Schrödinger kitten states in the group of Prof. Dr. Roman Schnabel.
He studied at the University of Hamburg and wrote his Bachelor thesis in the group of Prof. Dr. Robert Blick, working on the production and characterication of Bismuth Hall bars in 2014/15.
In 2016, he joined the group of Roman Schnabel and wrote his master thesis about setting up a squeezed light source and characterising it by 8-port homodyne detection.
Bachelor's thesis
Production and Characterization of Bismuth Hall bars
University of Hamburg (2015)
Master's thesis
Setup of a squeezed light source and its characterisation by 8-port homodyne detection
University of Hamburg (2017)