Non-linear Quantum optics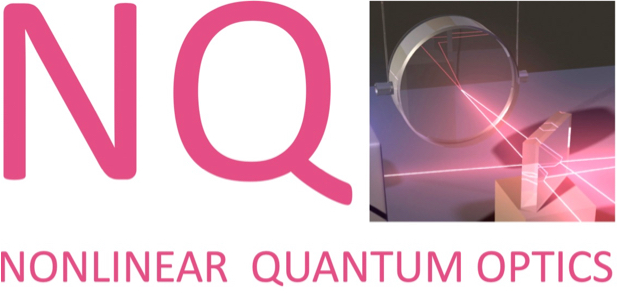 Welcome to Prof. Dr. Roman Schnabel's group "Non-linear quantum optics" at the ILP of the University of Hamburg!
We have been researching the applicability of squeezed and entangled laser light (Wikipedia-link) in the area of metrology, macroscopic quantum physics, and optical communication. 
In 2010 (then still at the Leibniz University of Hannover), the group designed and built the world's first fully automated squeezed light laser. This laser has been in uninterrupted use in the gravitational-wave detector GEO6001.
1[The LSC, A gravitational wave observatory operating beyond the quantum shot-noise limit, Nature Physics 7, 962 (2011)].
Overview of the research topics
Cooperations and Third-party funding
AIM
Functionalities are at the heart of the cluster of excellence "CUI: Advanced Imaging of Matter". Atoms bind together and form solids, molecules interact and react - new functionalities emerge with increasing complexity and growing system size. 160 scientists from different disciplines such as physics, chemistry, and structural biology have joined forces to observe, understand, and control these processes.
QU
The Cluster of Excellence Quantum Universe at Universität Hamburg and DESY explores mass and gravity at the interface between quantum physics and cosmology.
ERC-Projekt MassQ
The goal of the ERC project "MassQ" is to entangle the movement of two massive mirrors.
OTM
As part of the Marie-Curie ETN's "Opto-mechanical Technologies" (OTM), we explore quantum tomography of mechanical motion.
Partner
Our group is a partner of the GEO600 Collaboration and the LIGO Scientific Collaboration (LSC).
DFG-Project 1
In the DFG-NSF project "Speed measurements in the quantum non-demolition regime" in cooperation with Caltech, we are investigating a completely new interferometer concept for the detection of gravitational waves.
DFG-Project 2
Our DFG projects "Efficient multi-step distillation of quantum states without the need for quantum memories" aims for the quality improvement of entangled states of light for quantum communication.
DFG-Project 3
Our DFG project "Nonclassical Interferometry towards Gravitational-Wave Detectors at a Laser Wavelength of 2.1μm" (S. Steinlechner) realizes experiments at a new laser wavelength that might allow for gravitational-wave detectors with significantly improved sensitivities.
DFG-Project 4
Our DFG-NSF project "Novel mirror coatings for future gravitational-wave detectors" (J. Steinlechner) realizes mirror coatings from new materials with low mechanical loss.
---
Head of group:
Prof. Dr. Roman Schnabel
Institut für Laserphysik und Zentrum für optische Quantentechnologien
Luruper Chaussee 149
22761 Hamburg