High Performance Computing
The group led by Wolfram Schmidt is responsible for science-related IT support at Hamburg Observatory.
Moreover, Wolfram Schmidt conducts research projects with a focus on high performance computing in astrophysics:
modelling of physical processes in numerical simulations
properties of astrophysical turbulence
structure and evolution of disk galaxies
Code development
We participate in the development of publicly availabe astrophysical simulation codes. An example is Enzo. Its successor, Enzo-E/Cello, aims at improved scalability on the largest supercomputers.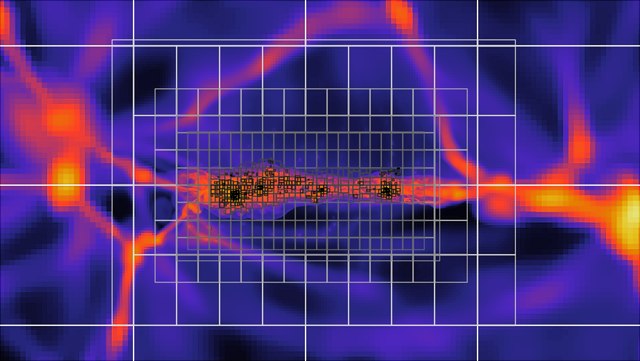 For the computation of gas dynamics in galaxies or clusters of galaxies, adaptive mesh refinement is applied. To model dark matter halos numerically, N-body dynamics is used in combination with particle-mesh methods. We focus on subgrid-scale physics and setups for galaxy simulations.
See also Brummel-Smith et al. (2019).
Galaxy simulations
Project in a Nutshell:
Throughout cosmic history, galaxies frequently collide and merge with other galaxies.
Observations of merging galaxies indicate an enhancement of the galactic magnetic field and, possibly, star bursts.
We investigate the impact of tidal forces acting during mergers on the magnetic field and star formation rate in adaptive mesh refinement.
For details and first results, see Selg et al. (2022).
Numerics
We run simulations with the publicly available code Enzo 2.6 using supercomputers of HLRN/NHR. Our model assumes two disk galaxies set on a collision course with a given impact parameter. While the galactic dark-matter halo is  treated by a static potential in isolated disk galaxy simulations, we use full N-body dynamics to treat the gravitational interaction between the halos of the colliding galaxies. In the first phase of the project, an idealised model with adiabatic gas dynamics is used.
Visualization
By clicking on the image below, you can view an animation of two colliding disk galaxies with impact parameter 71 kpc.