Dr. Francesco de Gasperin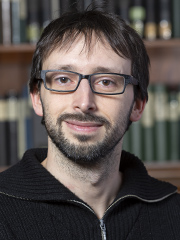 Photo: UHH, RRZ/MCC, Mentz
Visiting scientist
Address
Universität Hamburg
Gojenbergsweg 112
21029 Hamburg
Contact
I am staff researcher at the Istituto Nazionale di Astrofisica (INAF) in Bolgona, Italy, collaborting in several projects with the Extragalactic Astrophysics Group at Hamburger Sternwarte.
My research topics are
(Ultra) low-frequency radio astronomy
Galaxy clusters
Active galactic nuclei and radio galaxies
Radio surveys
Novel algorithms for radio interferometry
Search NASA's ADS for my publications.
Our research collaboration is centered around low frequency radio observations, utilizing ground-based instruments such as LOFAR (LOw Frequency ARray) and, in the near future, SKA (Square Kilometer Array). We use radio observations to study the complex mechanisms that accelerate particles in galaxy clusters and to investigate the interaction between Active Galactic Nuclei and their surrounding medium. Furthermore, our work involves the development of novel techniques for the analysis of ultra-low frequency (<100 MHz) radio observations. In this framework, we are leading the LOFAR LBA Sky Survey, which is a long term project aiming to observe the entire northern sky at the lowest frequency range accessible from ground-based instruments.
As part of our work, we maintain a publicly available database on galaxy cluster data.
Galaxy Clusters
Some of the most spectacular structures in the radio sky are found in galaxy clusters and they can be as large as some millions of light years. They arise when galaxy clusters merge with each other. Mergers between galaxy clusters are the most energetic events ever happened since the Big-Bang and part of the released energy is channeled into the acceleration of energetic cosmic rays. Galaxy clusters can be therefore considered as the largest particle accelerators in the Universe. However, the mechanisms producing these gigantic radio sources are still poorly understood. LOFAR has just opened the most promising frequency window in the study of large scale radio emission from galaxy clusters. We use LOFAR observations to unveil previously undetected diffuse sources and to study the physical processes that are able to accelerate particles up to speeds close to the speed of light.
Active Galactic Nuclei
Supermassive black holes at the centre of galaxies have a strong impact on the evolution of the galaxy itself. On larger scales, these relatively tiny objects can alter the evolution of entire galaxy clusters. Observations at the lowest radio frequencies give us the unique opportunity to investigate their long term impact on the surrounding environment as well as the properties of their recurring activity.
One exciting new field opened by ultra-low frequency radio observations, is the study of previously unknown mechanisms of particle energisation, such as the gentle re-energisation of cosmic rays of AGN origin by complex plasma interactions. These processes are a fundamental element to picture the full life cycle of cosmic rays in galaxy clusters as well as unique tools to study plasma physics using astronomical sources making our Universe a laboratory like no other on Earth.