Dr. Christoph Becker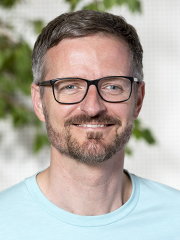 Post-doctoral scientific staff
Address
Universität Hamburg
Institut für Laserphysik
Luruper Chaussee 149
22761 Hamburg
Office
Building 69 (ILP)
Room: 221
Contact
Dr. Christoph Becker is senior scientist and scientific coordinator of the quantum gas research section in the group of Prof. Dr. Klaus Sengstock.
He studied physics at the University of Giessen and the University of Washington, Seattle. In 2002 Christoph joined the group of Prof. Dr. Alfred Müller and finsihed his diploma in the field of electron impact ionization in 2003. He started working on his PhD thesis devoted to Spinor condensates in optical lattices the same year. In 2008 he received his PhD, winning the PhD award of the University of Hamburg.
His research interests lie in the field of ultracold quantum gas mixtures in optical lattices and include Spinor condensates and Spinor Fermi gases in triangular and hexagonal optical lattices, spin dynamics of bosons and fermions as well as Ytterbium-Rubidium and Potassium-Rubidium mixtures. He is currently setting up a new experiment dedicated to the coupling of nano-machanical oscillators to ultracold quantum gases.
He is associated junior scientist within the Graduiertenkolleg GrK1355,  the DFG research Unit 801 and the Bundesexzellenxcluster Centre for Ultrafast Imaging (CUI). He is further principal investigator in the SFB925.
---